Space at the OLD Place: SAKA (Oslo) & duo PETER van BERGEN/ONNO GOVAERT
Saturday, March 5, 20:30, entrance € 10 / CvA € 7
THIS CONCERT WILL TAKE PLACE AT THE BUIKSLOTERDIJK 270!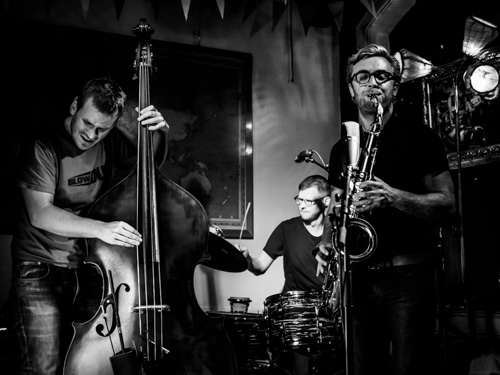 SAKA
Words fall short to describe this all around talented band from Norway. Luckily, All About Jazz did find the words to do so, so we'll happily quote their four-and-a-half star review: "This trio has already managed to create its own independent, mature voice while still well-versed in past and current powerful trios legacies that marry free jazz with free improvisation." "Saxophonist Kristoffer Berre Alberts has mastered a personal tonal language, while Strøm and drummer Dag Erik Knedal Andersen possess endless hyperactive energy. And there is enough space for all to explore the sonic articulations of their instruments."
Kristoffer Alberts – Saxophone(s)
Jon Rune Strøm – Bass
Dag Erik Knedal Andersen – Drums
——
duo VAN BERGEN / GOVAERT
Drummer Onno Govaert has become an important figure in jazz in seemingly no time. Already in 2013, Govaert (1987) received a carte blanche performance in the Bimhuis. As a regular guest of De Ruimte, he's got one of the most prolific sounds in the scene. Saxophone player Peter van Bergenis is active as a composer and performer of contemporary music, incorporating live electronics & computer. He studied at the Royal Music Conservatory in The Hague from 1980-1985, and studied extended saxophone technique with Evan Parker from 1990-1992.
Peter van Bergen – Saxophone(s)
Onno Govaert – Drums