Doors 21:00, Music 21:30 tickets 8-20 (Sliding Scale) 
The second Friday of every month: 2nd Stop is Jupiter! Dancing to the wildest live music in town.
¡ Once again at SEMAI Papaverhoek 35 !
LINE-UP:
NAT BED
ADULIS
ROLEDA
JAAP BLONK & TERRIE EX
NAT BED
If Mars had a soccer team, Nat Bed would be playing in their clubhouse. With unhinged mashups of pop songs they bring you riffs that hula hoop your hips and beats that rip up space suits. Weird, catchy, but above all. Nat.
https://natbed.bandcamp.com/releases
https://www.instagram.com/natbedband/
ADULIS BAND
Adulis digs up the music from east Africa! Ethiopian Jazz and Eritrean traditionals played by this wonderful sounding group formed in the garage studios of Amsterdam Noord around the voice and electric krar of Semere Welday.
Adulis will bring you bustling vibes and smooth dancing!
Semere Welday – krar, voice | Ada Rave – tenor sax | Oscar Jan Hoogland – piano | Angelo Antic – bass | Marcos Baggiani – percussion

ROLEDA
Roleda was born in Istanbul, the son of a Kurdish family from Batman.  He is a theater actor, musician and songwriter.  He blends many cultures, especially Kurdish culture, and works on t-rap, hip-hop and reggae.  In 2021, he left his theater education in Istanbul and moved to Amsterdam, the Netherlands.  He is still continuing his education here.  In addition to being the lead actor in the theater play "Out of Order" in the Netherlands, he has appeared on stage 20 times in total.  His first reggae style was inspired by his own stories in his single "Medusa".  He is currently preparing an album as well as singles. For The 2nd Stop is Jupiter he will play an intimit acoustic solo set in the traditional setting of the singer with the saz. And who knows what might happen later at night when the mood is high and the sound system blasts…
Roleda Yunus Bilir – saz, voice
JAAP BLONK & TERRIE EX
Gitarist Terrie Ex was in 1979 mede-oprichter van de "anarcho-punk"-band The Ex.
Door de jaren heen heeft hij met zijn onnavolgbare stijl ook in de vrije improvisatie naam
gemaakt, bijvoorbeeld in duo's met Han Bennink, Ab Baars en Ken Vandermark.
Jaap Blonk begon als vocalist met uitvoeringen van Dada-klankpoëzie, zoals Kurt
Schwitters' Ursonate. Vanaf midden jaren 80 heeft hij zich ook als improvisator ontwikkeld
en overal ter wereld opgetreden, waarbij de inzet van elektronica steeds belangrijker werd.
Het duo van Terrie en Jaap bestaat sinds 2003 en kenmerkt zich door grenzeloze vrijheid,
de onvoorspelbaarheid van dada en de energie van punk.
Jaap Blonk – stem, elektronica, Terrie Ex – gitaar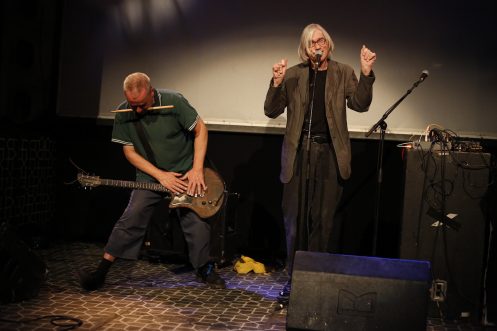 If you're on a tight budget, please don't hesitate to contact us via info@cafederuimte.nl to see what we can do regarding the entrance fee