Doors 20:00, Music 20:30 tickets 8-20 (Sliding Scale)
The Space Impro season ends with a bang! On the last day of May tenor saxophonist James Brandon Lewis comes to De Ruimte to give a masterclass, an evening concert and one day later alto saxophonist David Binney will perform duo with "our own" Fuensanta. Teis
Semey and Giovanni Iacovella will complete the evening. Don't miss this opportunity to hear some fabulous music from these incredible musicians.
DAVID BINNEY / FUENSANTA
Acclaimed as a considerable and highly individual compositional talent, saxophonist David Binney is one of the most prolific jazz musicians on the scene today. Winning praise from critics and colleagues alike, David was recently singled out by Jazz Times as one of a
handful of players who have created an alternative jazz-scene… all of whom are playing adventurous, original music. David was born in Miami, Florida. At the age of 19 moved to New York City and lived there for many years. He now lives in Los Angeles. Creator/Producer of the band that was David Bowie's Blackstar. David Binney is known for his performances and recordings with such prestigious groups as Knower (Louis Cole, Genevieve Artadi), Chrissie Hynde, Gil Evans, Maria Schneider, Jim Hall, Vince Mendoza, Uri Caine, Vinicius Cantuaria, Carlinhos Brown, Norah Jones, Antonio Sanchez, Wayne Krantz, Chris Potter, Nguyen Le, Miles Okazaki, Joe Locke, Edward
Simon, Dan Weiss, Alex Sipiagin, Joel Harrison, Bobby Previte, Cecil McBee and countless others.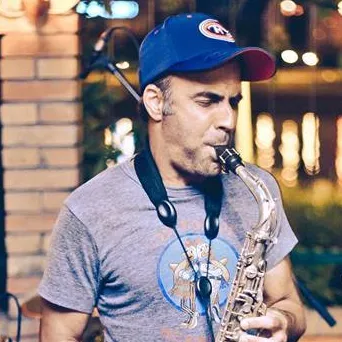 FUENSANTA
Singer, double bassist and composer Fuensanta Méndez was born and raised in the water forest of Veracruz (Mexico). There she started singing at the age of thirteen and writing poetry at the age of fifteen. She moved to the Netherlands and in 2019 she graduated summa cum laude from the Conservatorium van Amsterdam. You can still hear where she comes from in her songs: the rawness, loneliness and surrealism of the water forest resonate strongly in her work. Fuensanta works at the heart of a new cosmopolitan scene of Dutch jazz musicians. She has worked with talented musicians as Marta Arpini, Alistair Payne, José Soares, Guy Salamon, Sun-Mi Hong, Teis Semey, Youngwoo Lee, Reinier Baas, Tineke Postma, Ben van Gelder, Han Bennink and Joris Roelofs, but also internationally her star is rising quickly. This spring she is touring with Louis Cole, together with David Binney.
RAW FISH
Light-bending electro-acoustic avant-garde indie duo between Italian Giovanni Iacovella and Danish Teis Semey. The quirky, virtuous, contemporary harmonic lines and chords of Semey take off in an epic bi-protagonistic adventure with the bombastic and intricate drumming by Giovanni Iacovella. Into and through the universe of modern music in all its shapes and forms. Expect nothing, and everything, but mainly an energizing rebirth of the duo with surprises flying like sparks, left and right and center.
Teis Semey – guitar | Giovanni Iacovella – drums, electronics